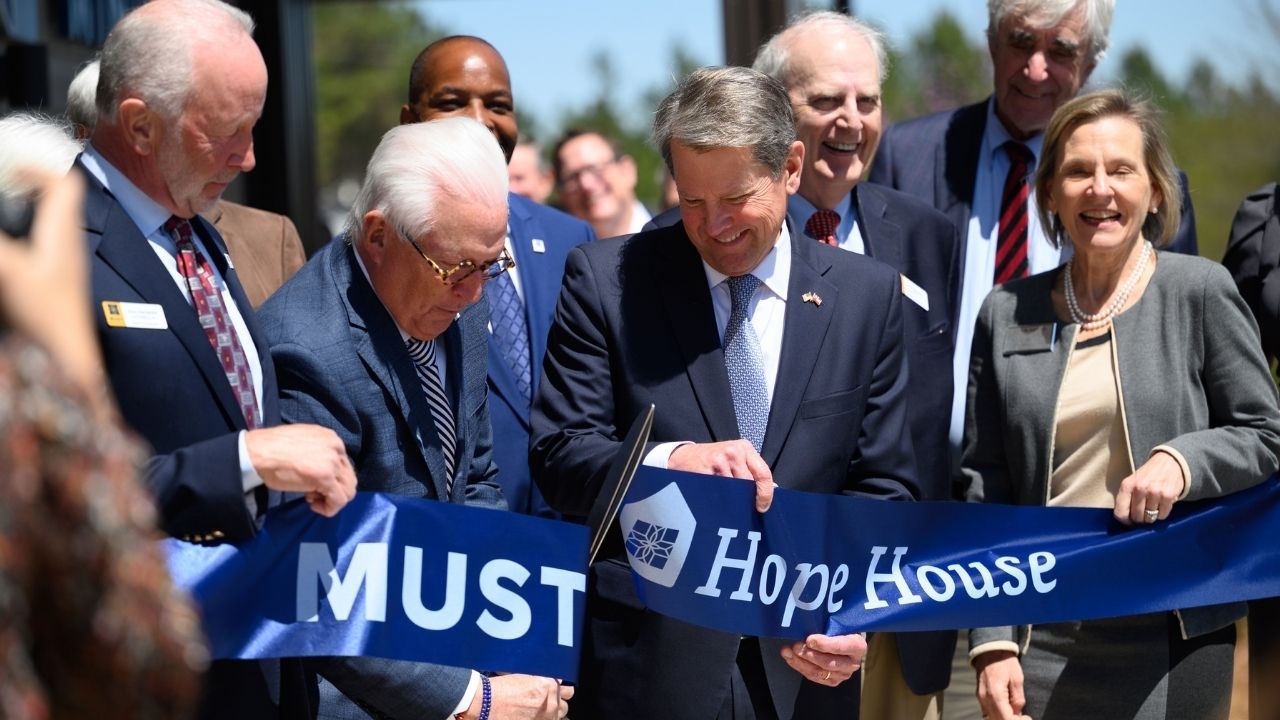 MARIETTA — MUST Ministries opened doors to fresh hope for the area's homeless community Friday, cutting the ribbon on the 43,556-square-foot, two-story Hope House for men, women and children who need help, food and a safe place to sleep at night.
Friday's open house and dedication for community leaders, supporters, staff and volunteers included Gov. Brian Kemp and former Gov. Roy Barnes, along with elected officials from Marietta and Cobb County.
"No one aspires to live in a homeless shelter. A lot of people who come to us for help are embarrassed," MUST CEO Ike Reighard told the MDJ. "During this 'Great Resignation,' many people didn't resign, they ended up losing their jobs because of the pandemic and the faltering economy. The most heartbreaking stories come from those who say 'I used to donate here,' or 'I used to volunteer here,' and now I'm here to ask for help.
"The main thing we try to bring to our clients is dignity and respect," he continued. "We tell them 'Thank you for supporting us and volunteering with us, and now we're going to do our best to help you.' We tell them there will come a day when they're going to be coming back and helping others."
MUST's old shelter, a repurposed church a short distance from the new home, has seen a dramatic change in Cobb County's homeless and financially struggling population.
"Fewer men, and more women in children over the last 10 years," Reighard said, summarizing that change. "Sometimes we have multiple generations in a family who need help."
The new facility features 136 beds and 36 respite beds for inclement weather; a chapel where clients can pray and have a moment of reflection; a rooftop retreat for families featuring play areas, tables and seating; and a dining hall featuring picture windows to help alleviate claustrophobia.
Family rooms with five beds and a private bath in each allows families to stay and sleep together. The home's Children's Afterschool Learning Center allows children to read, study, do homework and work with tutors.
There are also private rooms where clients can make phone calls and work on resumes and job applications. A computer lab houses 10 work stations and a jobs professional. Those in need of clothing can "shop" at an onsite clothing boutique.
"The playground area allows our youngest casualties of poverty to play during their time at the MUST Hope House. Clients with minor medical needs can be seen by medical professionals in one of three exam rooms," Reighard said.
On any given night, nearly 400 lie on a pillow MUST Ministries has supplied through the non-profit's nearby Elizabeth Inn, "and now we can add another 136, beginning May 2," Reighard said.
"The challenges of the pandemic brought challenges to all Americans, especially to those who are struggling financially," Kemp said, noting that more than 10,400 Georgians are currently homeless.
"Matthew 25:40 tells us 'Truly I tell you, whatever you did for one of the least of these brothers and sisters of mine, you did for me,' and I'm reminded of these powerful words today as we celebrate this new beginning," Kemp told the crowd.
Less than two years ago, Kemp and his wife Marty participated in the home's groundbreaking, "and it's great to see that it's now completed, and know many Georgians will get their needs of care and quality resources when they're facing tough times," the governor said.
By Robin Rayne For the MDJ