MUST Ministries Board of Directors Welcomes New Members
February 24, 2021 (Marietta, GA) - MUST Ministries, the largest non-profit outside of the perimeter, is pleased to announce the addition of five members to its Board of Directors beginning in March. MUST Ministries has been serving Cobb, Cherokee and surrounding counties for 50 years and has been particularly active during the pandemic, serving more clients in every area of service. MUST typically serves 33,000 people in a year but since March 2020 has fed almost 173,000 people an astonishing 2 million pounds of food.
"As we look back at the last 50 years and particularly 2020, a great part of the success and significance that MUST Ministries has experienced is due to an amazing group of board members," said MUST Ministries President and CEO Dr. Ike Reighard. "I am honored and blessed to welcome the addition of these dynamic community leaders who will continue the legacy of MUST and enhance our future effectiveness as we 'Serve Our Neighbors In Need.'"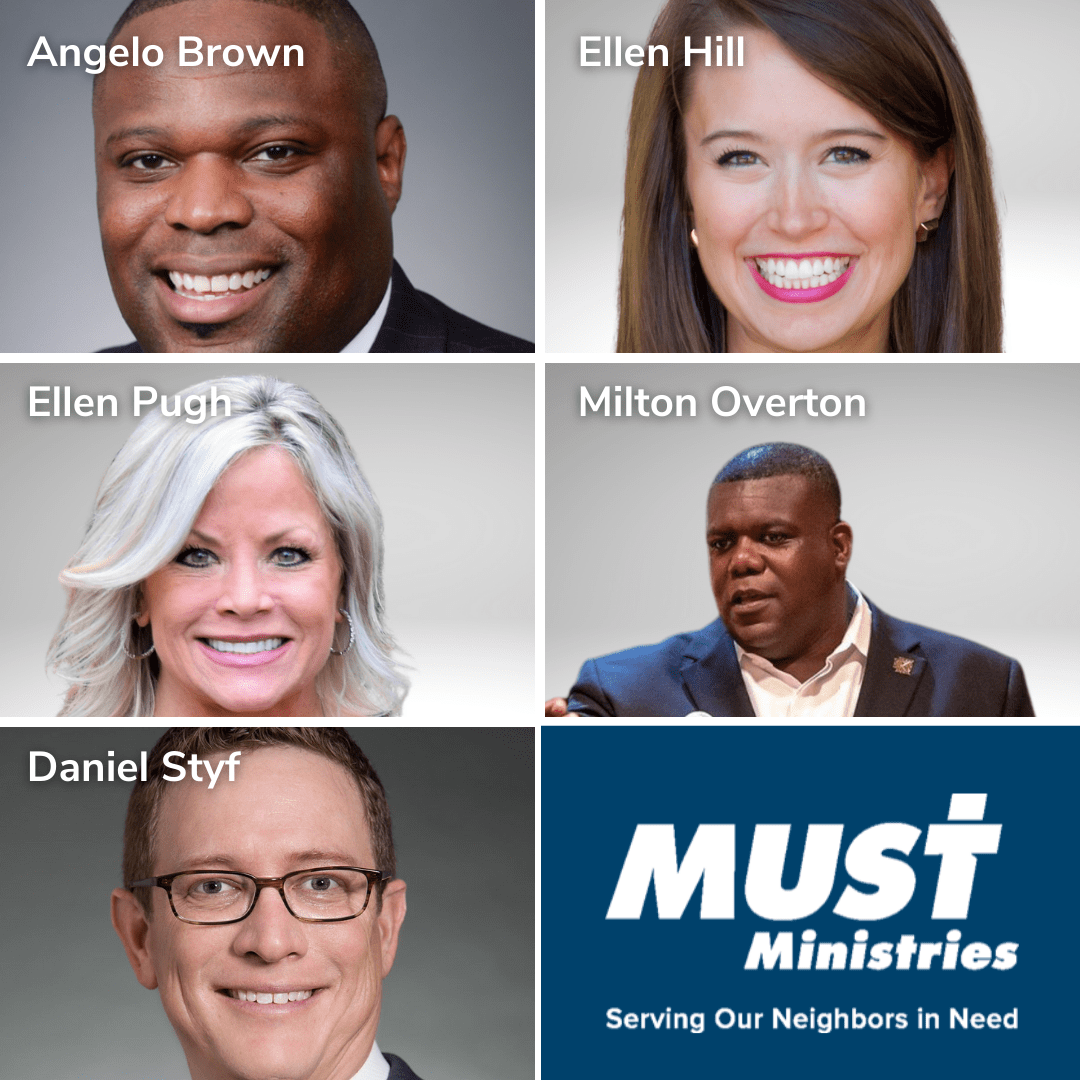 Angelo Brown is the CEO of Shepherding Leaders and a Business Professor at Chattahoochee Technical College. He is also on the boards of Center of Children and Young Adults and Fellowship of Christian Athletes.
Ellen Hill is a realtor with Atlanta Fine Homes Sotheby's International Realty. She also serves on the Board for the City of Marietta Visitors Bureau. Ellen volunteers with the Junior League of Cobb Marietta and is a Leadership Cobb alumni.
Milton Overton is the Director of Athletics at Kennesaw State University. In addition to serving on the MUST Board of Directors, he is a member of the Cobb Chamber, Acworth Business Assn and Kennesaw Business Assn and has major gift fundraising experience.
Ellen Pugh has been on the board of Cobb Fellowship of Christian Athletes and has volunteered at Calvary Children's Home, Safepath, American Cancer Society, Mt. Paran Christian School and MUST Ministries. She serves in the children's ministry, Vacation Bible School and teen ministries of Burnt Hickory Baptist Church.
Dan Styf is President of DS Healthcare Strategies and a former MUST Ministries board member and Chairman of the Board of Directors.During his time with MUST, Dan helped establish a 5-year strategic plan that was the cornerstone of "Build Hope a Home", the new homeless shelter that will open in 2021.